Designing Page
DESIGNING YOUR CUSTOM BUTTONS
Designing your Custom Buttons (Celluloid)
Please send us a picture of your logo, or any idea that you would like to see transformed into a custom button design. We accept images in any PC format. You can also fax or email us a sketch or drawing or feel free to start from scratch by contacting one of our friendly customer service representatives. One of our highly trained computer graphic artists will immediately begin working on your custom designed buttons and will forward a full color image via email for your review. We will revise your custom buttons design artwork until you are completely satisfied. Please remember that here at Buttons-4-Less.com we never charge for artwork and revisions.
When trying to decide on the size of the custom buttons design you would like to order, please consider the illustration below. Sometimes you may need to go to the next size up when you factor in the bleed areas of the button. Please note the working area of the button below:
The 4 Button Areas:
1.

Working Area


We recommend that all art and copy stay within this area.

2.

Face of Button


Art should not touch this area of the button unless it is bleeding off the edge.

3.

Die Cut/Bleed Line


All art that bleeds/wraps must extend to this line. This line must print for accurate cutting.

4.

Tagline


Typesetting will be done on the curl in the bleed area by Buttons-4-Less to insure proper location.
**See Illustration Below for Details**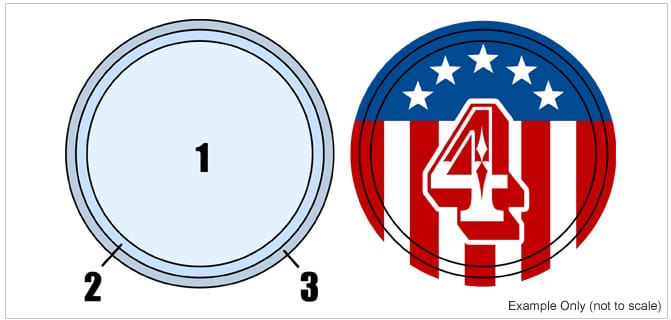 ARTWORK SUBMISSION GUIDELINES
PREPARING YOUR ARTWORK FOR CUSTOM BUTTONS: Our fully trained custom graphic arts staff will accept artwork in just about any PC format you can come up with. This includes jpeg, gif, png, tif, and other forms of raster images. To ensure the highest quality print for your buttons, you may also submit an Adobe Illustrator or Adobe Photoshop file to us for production. Specifications on how to set those up can be found below. Please remember to save all documents in the CMYK color mode to ensure accurate printing.

500 dpi resolution recommended (300 dpi minmum)
Ensure a 1/2" Bleed (1/4" per side of button)
CMYK color (most accurate color printing)
Must be in a PC format

All fonts must be converted to outlines
Ensure a 1/2" Bleed (1/4" per side of button)
CMYK color (most accurate color printing)
Must be in a PC format (.ai, .eps, .pdf)